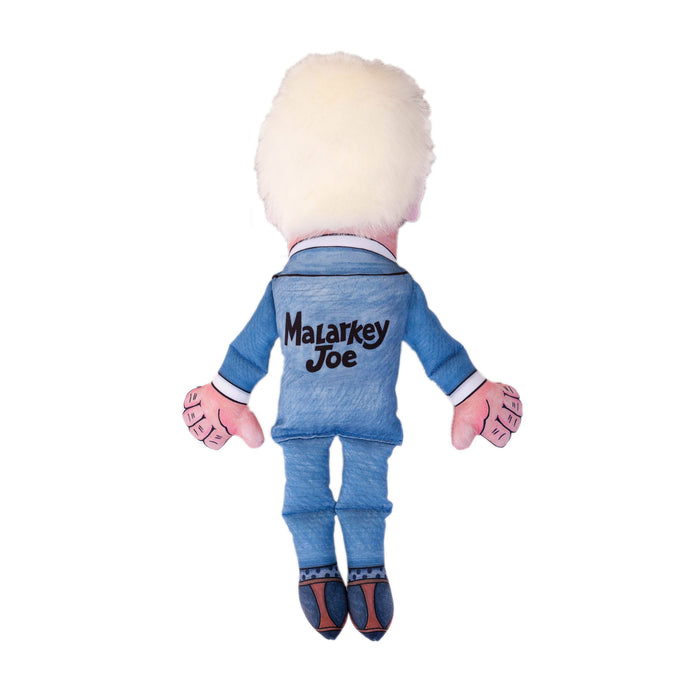 Political Parody - President Joe Biden Dog Toy
Toy Details 
Available in 2 sizes:

Small 12" H x 3" W 

Large 17

" H x 4" W 

Printed polyester canvas with fiberfill
Squeaker
White plush hair
Made with non-toxic materials
Triple-stitched arms and legs
Nice and Floppy!
It's not up for debate...Joe wants your dog's vote! His winning smile, white plush hair, floppy arms and legs and tantalizing squeaker are simply irresistible! No matter which way you lean, your dog will enjoy spirited debates on the floor and throughout the house with this politico! 
NO MALARKEY! IT'S A GREAT TOY: Made with durable polyester canvas fabric and triple-stitched at the seams around the arms and legs to ensure long lasting play. Joe is loaded with a squeaker and top-stitching at the elbows and knees for easy sitting and strategic posing (a photo-opportunity begging to happen).

NON-TOXIC: Safety is super-important when it comes to choosing a toy for your dog. Crafted from premium quality, tough, non-toxic polyester with accents of plush.

A PHOTO OPPORTUNITY BEGGING TO HAPPEN: He's a real conversation starter! Joe's winning smile and printed details, such as "Electable!" name tag, "free hugs" button and "Gaffes for Laughs" booklet will keep you smiling all the way to the voting booth.

WHAT A GIFT! No matter which way they lean, your friends and their dogs will go wild for our Joe toy.